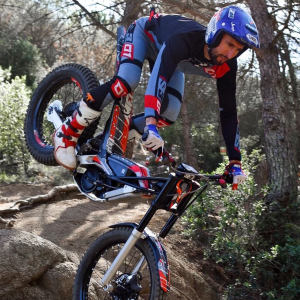 Alex Ferrer (PRO TRIAL RIDER)
"The Dragonfly is a surprising motorcycle!

From the first laps on the Dragonfly, I was surprised by the incredible lightness of this machine, which sets it apart from all current trial bikes.

The mass is placed very strategically in order to lower the gravity center of the bike as much as possible and the feeling is immediate in the areas!

The bike is both very playful and easy to handle while maintaining excellent stability.

Regarding engine power, there is something for everyone!! 

Thanks to these 3 power maps, the bike will be satisfied with initiation to the highest level!

I can't wait to let you discover it on the pitch!!!"
Alex Ferrer (5 x French Elite Champion, European Champion 2008, JR World Champion 2012, World TR2 Vice-Champion 2020).